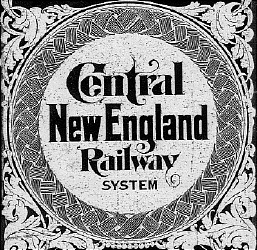 The Central New England Railway
The Central New England Railway, in its final form, was the end result of numerous starts, bankruptcy's, mergers, and takeovers. A text history of the CNE can be found here. The CNE ended its life in 1927 as the railroad came under the control of the New York, New Haven & Hartford Railroad Company. After the NH acquired control of the line it began wholesale abandonment of the right of way. Now, some 79 years later, some of the right of way has been preserved through the hard work of some to become walking paths. Much of the right of way is now underneath major paved roads such as Route 44 in parts of Winsted. In my wanderings through Litchfield County I have noticed that a large amount of the right of way is actually visible from the highways, back roads and driveways throughout the area. Wintertime is a great time to drive Route 44 from Collinsville (this is were I pick up the right of way) to State Line. If you want to know more about the eastern end of the line (from Collinsville to Hartford and Springfield, MA) you should check out the web page of Tim Dowd. He is attending college halfway across the country and still finds time to document the CNE. Check out his page Central New England Railway
I am going to set up my page much like his - by towns east to west.
Collinsville , Cherry Brook , Satan's Kingdom , Pine Meadow , New Hartford , East Winsted , Winsted , West Winsted , Mad River Valley , Grants , Summit , Norfolk , Haystack Mountain , Stoney Lonesome , Whiting River , East Canaan , Canaan, Canaan Union Station, Canaan Yard, Washining , Twin Lakes , Taconic , Salisbury , Lakeville , Ore Hill , State Line
I have been given a hand typed locomotive roster from Robert Lord and I have finally gotten it put into a MS Word document file that you can see here
Some of the old pictures I have used came from the Connecticut History Online archive which you can find here.
Here is my page documenting my attempt at modeling the CNE.