New Hartford
East of here is Pine Meadow
The division between Pine Meadow and New Hartford is a slim one so I am going to say that New Hartford starts where the old Canal Line crossed the river to get to the brush factory and icehouse on the east side. From here the CNE is on the embankment above Route 44 with the river below. It sure is a tight fit here!
The CNE came to a point where it wanted to cross a stream and head through town. To do that it built a trestle.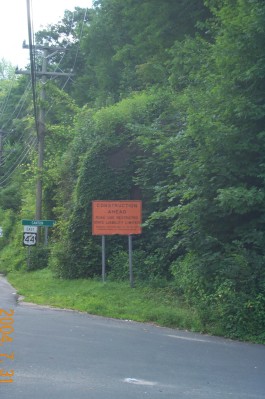 The southern abutment is shown here. Tim Dowd has a better picture taken in the winter on his page here. From here it went across the trestle and into the station.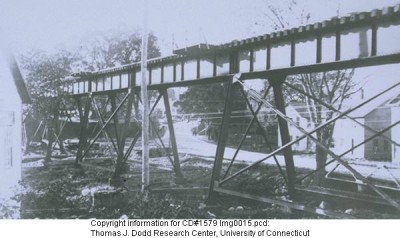 This archive picture came from the University of Connecticut. There online library Connecticut History Online- Search & Browse Images . This is an amazing research archive. The road through the center of the picture above is now Route 44. It was called the Albany Turnpike. From New Hartford the CNE runs parallel to the highway on the bank above the highway. Again, Tim has some good pictures on his page of the line through this area here. The next stop is East Winsted