Winsted
East of here is East Winsted
Out of East Winsted into Winsted proper.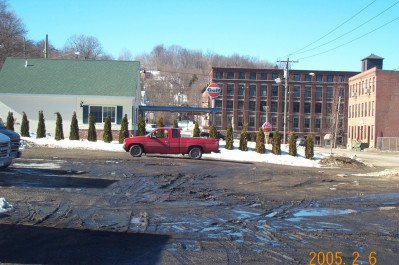 The station that was in use up to the late 1950's has been torn down. In the picture above I am looking westbound. The red truck is where the main line was. The station was to the right between the truck and the road. In the background past the four story brick building is where the walking trail starts.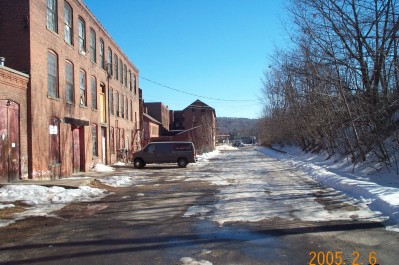 Looking eastbound from the beginning of the walking trail. In the distance you can see the gas station that was in the picture above. This roadway is where the right of way was.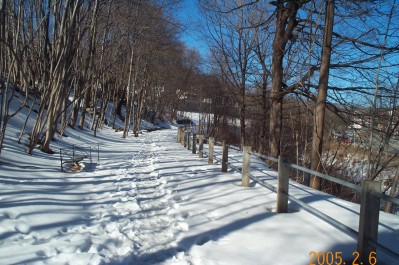 The walking trail winds its way along the river towards West Winsted. There are poster boards along the trail that give short narratives about the CNE.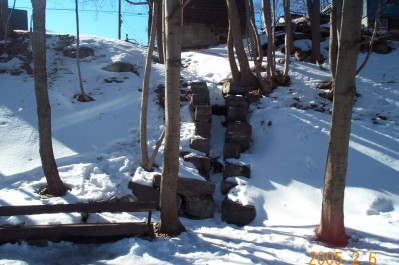 Along the trail there is some interesting stonework that looks suspiciously like CNE or one of its predecessor's handiwork.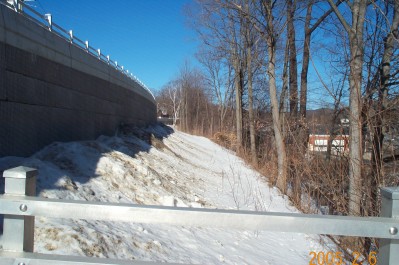 This is looking westbound at the northern end of the trail. In the distance is where the line crossed Prospect Street which is also on the top of the wall to the left. Once it crossed Prospect it cut in front of what is now the Winchester Historical Society building and the crossed Lake Street on a low bridge. After that it entered West Winsted.